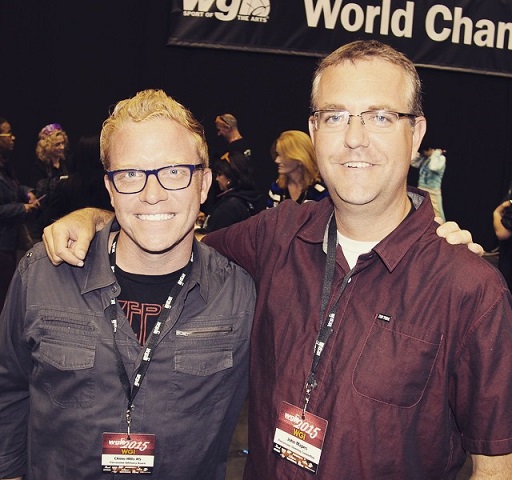 ---
"Box Six" was officially launched in August of 2008 and is a collection of our body of work from 2005 to the present. The main difference between this site and the many other sites available is that every single piece of music found on Box 6 is composed and arranged by the same two people. We (John Mapes and Ian Grom) met at Cal State University Long Beach in the music department in the Fall of 1998 and started actively working together from 2004 to the present. With over thirty five years of experience between us, a current output of around 10 shows a year, and a history of success at every level of the activity, we are confident in our signature sound and approach to the world of pageantry and are proud of what we have offered with these productions for the past 10 years and counting to the general public!
Our fresh approach to Marching Band composition comes from a unique blend of elements: The painstaking development of pacing and effects taken from our experience in indoor percussion, the wide variety of musical influences we both bring to the table from our years as professional musicians/arrangers/composers, the seamless blend between winds and percussion that is present from the very conception of the production, the time-tested wisdom of what works and what doesn't in real life, and the drive to constantly push the creative envelope with every production we put our name on.
The recordings you hear throughout the site were all created with the most cutting edge technology available and we believe them to be unrivalled in today's market. Innumerable hours are spent to achieve as accurate and thorough of a playback as possible to give you the best source for how to fine tune your Box 6 show in the live situation. Powered by 3 custom audio PC's, a separate Pro Tools rig for live tracking, and a massive 500+ GB sample library, the Box 6 production studio is one of the most advanced workstations around solely dedicated to the marching arts. However, there are no sounds or effects heard on the recordings that cannot be replicated in a live environment. We pride ourselves on being able to accurately reproduce the production quality of our recordings in a live performance situation.
We have experienced most of the shows on this site up close and personal. We have experienced the flicker of an idea turn into a rough sketch which turned into World Championship success. This body of work is not just a business for us, it is a large part of who we are. We hope you and your students can enjoy it as much as we have!
You can email Box Six at: contact@box-six.com